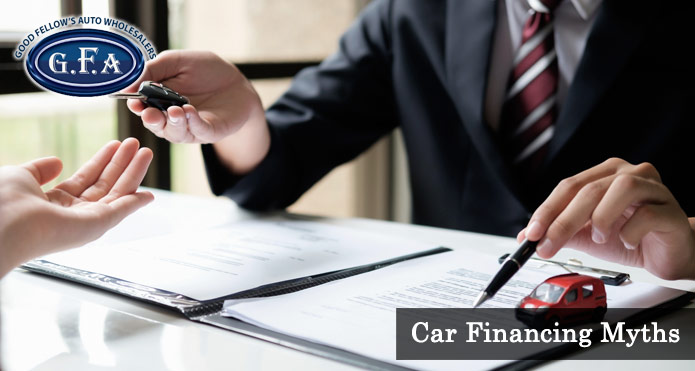 Looking to get the greatest used vehicle shopping experience? Your best option is to work with Good Fellow's Auto Wholesalers. You may have heard trusted family or friends shopping with our used car dealership, and we are here to tell you it's the right choice. Our dedicated team can help you to find the right used car and auto financing to suit your specific needs. But before we jump into the details, let's first cover the top three car financing myths so you can begin your car shopping experience with great knowledge and expertise.
Myth 1: Poor Credit = No Car Loan
The truth is, if you do have poor credit, you can absolutely still get a car loan. This leads us to say that poor credit leads to no car loan is a myth and is false information. When you work with a good used dealership, they will work with you in order to provide you with financing options that fit your financial status. When you work with our team, we even take the extra step to ensure that if you do have a poor credit score, that you make your payments on time in order to rebuild your credit.
Myth 2: My Spouse's Credit Score Will Help Mine
This information is false. Some individuals believe that when they get married, both of their credit scores combine together. This is not true, and it's important to note that lenders consider individual credit scores. This also applies for joint car loans. However, even though you are assessed on your own credit score, you can still receive a more favourable loan when married as income can be combined.
Myth 3: Rejected Once, Always Rejected
Depending on your financial situation, if you get rejected for a car loan, it can feel discouraging, but our team is here to remind you not to give up. Just because you have been rejected once, it does not mean you will be rejected everywhere else. It's always a good idea to explore your options and check out what other good used car dealerships are in your area. If you are feeling discouraged, we recommend that you head over to our dealership to see our range of different financing solutions that can help you get the used vehicle you are looking for.
How Good Fellow's Auto Can Help
Now that we have covered some common myths, you are ready to begin your used car search. Our team knows that there are many Used Car Dealerships in Toronto, so it can be difficult to decide where to start. For this reason, Good Fellow's Auto Wholesalers has created an easy used car shopping experience so that drivers can get behind the wheel more confidently and happy. If you are ready to begin talking about your financial options, our team would be happy to assist you. Please contact our team at 1 (855) 581-9590 to be connected with an expert sales or financial representative. We look forward to working with you.