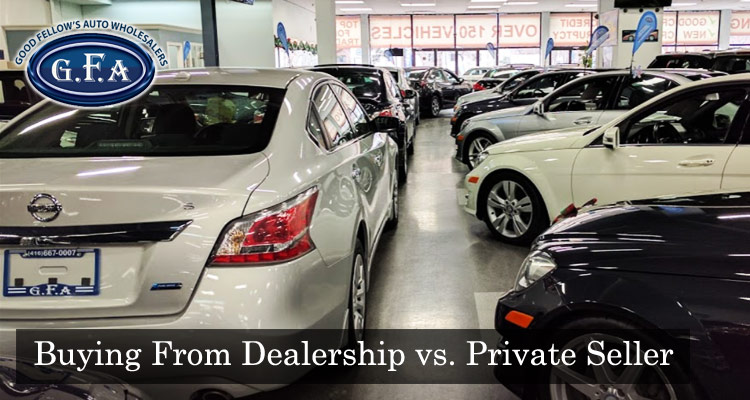 There are many benefits as to why one would decide to purchase a used vehicle instead of a new car. Buying a used vehicle can help save some money and it can also provide a selection that is unique or that is not often found. Good Fellow's Auto Wholesalers encourages you to opt for a used vehicle but would like to outline the benefits of purchasing from a used car dealership to a private seller in order for you to make an informed decision.
The Decision
Deciding which route to go is not always an easy decision but there are some facts that can help to make a fully rounded informed choice. Firstly, it's important to know that if you are purchasing from a private seller, the vehicle will be sold "as is". This means that the vehicle has not properly been evaluated and even if it has an attractive price tag on it, it could lead to major issues further down the road. On the other hand, if you decide to purchase from a used car dealer, you at least have a general sense of guarantee and confidence with the vehicle. This is because used car dealers make sales that are backed up by a contract.
Used Car Private Sales
If you are interested in the price tag of a used vehicle from a private seller, you should always keep in mind that while it is in good faith to disclose the vehicle's complete history, many tend to leave out major details and happen to not follow this standard. This means that the day after you purchase a vehicle, it could break down and you would have no security or protection.
Furthermore, it's important to note that a private sale is not eligible for tax saving which can result in a significant loss. In addition, there are hidden costs to a private sale. They include emissions testing and certifications that land on coming from the buyer's pocket and not the sellers.
Used Car Dealership Sales
Purchasing from a used car dealership such as Good Fellow's Auto Wholesalers can provide benefits that certainly outweigh any drawbacks. A used vehicle dealer is able to provide the trade-in tax which can result in huge savings for the buyer. Also purchasing from a used car dealer opens doors to help with providing auto financing options that work specifically for the buyer. Warranties and after-sale service packages can also be offered to cars sold at our dealership. The biggest advantage of purchasing from a dealer is that the sales team will disclose all of the car's history and will indicate if the car has had any problems in the past.
How We Can Help
Good Fellow's Auto Wholesalers is a trusted and reliable dealership to purchase your used vehicle from. We offer fair prices and also honestly disclose any of the need to know information about the vehicles we sell. If you are looking for a quality vehicle that you can feel confident about, our used car dealership in Toronto is only a phone call away to make an appointment.
Give us a call today at 1 (855) 581-9590 for more information.