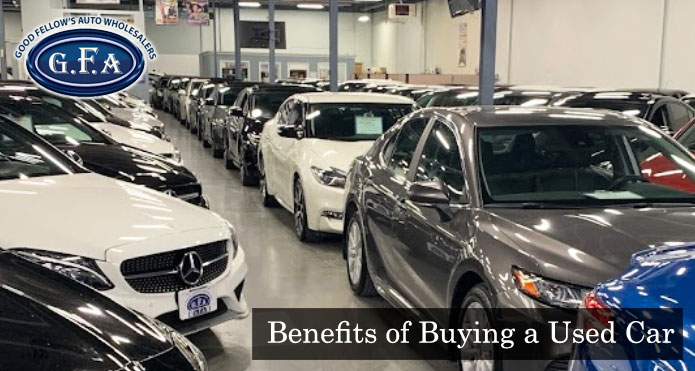 Are you familiar with the three biggest benefits there are to purchasing a used vehicle? If you are not, not to worry because our team at Good Fellow's Auto Wholesalers has compiled the benefits here for you to read. If you are curious about purchasing a used car for sale in Toronto, it's time you read this post, then head over to our dealership to check out our excellent pre-owned inventory so that you can take advantage of these benefits!
Used Cars Have Lower Costs
One advantage is that purchasing a used car will have fewer costs associated with it. By this, we mean that insurance companies commonly charge higher rates to newer cars. This is simply because newer cars can become more costly to repair or replace if damaged, as well as the risk of them being stolen increases significantly. Furthermore, depending on where you live, you might actually find that registering a new car to be more expensive than if you were to register a used car.
More Used Car Options Are Available
If you drive down your main road, you will likely find numerous used car dealerships that exist. This leads us to our next advantage; the number of used car options that are available. All used car dealerships should not be trusted, but when you work with our team at Good Fellow's Auto Wholesalers, you can rest assured that you are in good hands.
Our dealership has a variety of used cars options in different models, colours, and kilometers that are available every day. If you are interested in a vehicle, you should act fast because you never know who else is also looking at them. You can also feel confident knowing that cars nowadays last much longer than they did in the past, resulting in more reliable and quality used vehicles.
Used Cars Depreciate Slower
If you are looking to purchase a new vehicle, you will have to pay top dollar in order to get the newest model which in turn, will result in financial suffering as three years down the road it will have depreciated nearly 50% of its value. That's why it's recommended that you purchase a used vehicle as its depreciated rate is not as high. As well, it becomes an advantage to you as the used car buyer when you purchase a car only a few years old, still in excellent quality for only half the price!
How We Can Help
Now that you know the three biggest advantages to purchasing a used car, it's time that you evaluate your used car options! Our team at Good Fellow's Auto Wholesalers would be honoured to take you around our showroom and show you all of the excellent inventory we have to offer. Our friendly sales team is here to answer any of your questions or concerns regarding anything to do with used cars or any credit auto loans. To get a hold of our team today, give us a call at 1 (855) 581-9590.