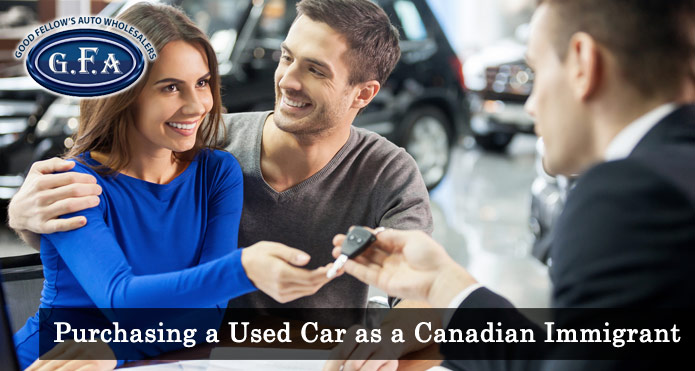 If you are a Canadian immigrant located in Ontario, our team at Good Fellow's Auto Wholesalers has put together this post to give you general information that is important to know for obtaining a used car. This guide is going to help you make a valuable investment and let you in on everything you need to know regarding this type of purchase. Let's jump into this car financing guide together.
Get to Know Your Credit Score
In Canada, a good credit score is considered 600 and any score over 720 is known as a great credit score. The better your credit score is, the better rates you will be able to obtain. There are two credit reporting agencies in Canada that keep records on everyone. They include Equifax and TransUnion. You most likely have a profile in their database. If you are looking for a harmless way to check your score, we recommend using Credit Karma.
When checking your credit score, it's important to look for mistakes. If you notice one, it's best to file a dispute right away to Equifax and TransUnion. Mistakes can bring down your credit score and if they are legitimate, they can be removed. If you check your score and notice that it is lower than you would like, the best thing to do is to reduce the debt you owe. This means making payments on overdue debts.
Select Your Vehicle
Are you familiar with the vehicle you want? If not, no need to worry. Our friendly sales team can help. Depending on what you intend to use the vehicle for and what type of features you want, our team can guide you in the right direction. Our team would always recommend purchasing a fuel economy vehicle and ones that come with a warranty. We would also recommend that you avoid purchasing from a private seller as it's better to work with a registered dealership that has an established reputation and track record.
Good Fellows Makes Good Deals
Visiting our used car dealership is the best way to go about purchasing a vehicle. Our dealership will be able to approve you for a loan whether you have bad credit or no credit at all. We also create a plan that is optimal and affordable for our clients. With an inventory stocked of used cars, it's best that you come to our dealership to check out all of your options.
How We Can Help
Good Fellow's Auto Wholesalers is ready to help all Canadian immigrants who have challenging credit situations. Our team is able to give financing advice that can help your situation and provide you with all the information you need to know. To visit our credit specialists today, give our team a call at 1 (855) 581-9590 and one of our fantastic financial members would be happy to book you in. We look forward to speaking with you and creating a unique used car plan for your situation.