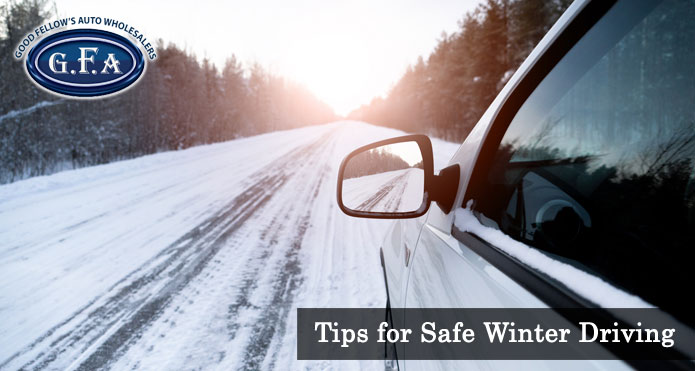 When the winter weather begins in Ontario, it can be frightening and dangerous for drivers on the roads. Therefore drivers must be well prepared for the worst winter conditions they could encounter when driving. Our team at Good Fellow's Auto Wholesalers has compiled eight tips for safe winter driving to help drivers get ready for the changed road conditions. Continue reading here as our used car dealership dives into the details of what you need to know.
Create a "Survival Kit"
Creating a kit in your trunk filled with essentials in case your vehicle breaks down or you get stuck in the snow, this is a good call. This kit should include windshield wiper fluid, small shovel, booster cables, a a snow brush, warm clothes (including hat, mitts, and scarf), candles, water bottles, and non-perishable energy foods.
Check the Weather & Road Conditions
Knowing what kind of weather conditions you are entering is important to help get you prepared for your winter drive ahead. We recommend checking the weather forecast and choosing the route beforehand.
Leave Space Behind Snow Plows
If you're driving behind a snowplow, it's necessary to leave a gap for a few reasons. Firstly, driving directly behind can obstruct your view as the snow coming off could reduce your visibility as well as snow plows don't always have the best visibility.
Winter Tires are Essential
To get more grip on the road when winter driving, winter tires are critical to have. They will provide more traction, offer betting handling and braking, as well as shorten your braking distance.
Arrange For Extra Travel Time
You should always drive according to the conditions of the road and take your time when traveling. Leaving yourself more time than anticipated to get somewhere is a great way to avoid dangerous driving situations.
Remove Snow & Ice Before Driving
If you want to keep yourself and loved ones safe, it's important to completely clean off your vehicle before you leave. This means brushing off snow and scraping ice. You should always leave enough time for this and be sure to get all of your windows, mirrors, lights, and roof.
Always Keep a Full Tank of Gas
In the winter, having a full tank of gas is important for a few reasons. Firstly, if there is an accident and you are stuck in the same spot for a long period, you will want to run heat to keep warm. Also, a full tank can help to reduce moisture in the fuel system.
Keep Your Phone Charged
If you are out driving and you experience an issue, it's important that your phone is charged and you have the right numbers to call in case of an emergency.
How We Can Help
Our used car dealership at Good Fellow's Auto Wholesalers always wants to ensure your safety when on the roads. If you have read over this list of tips and you are ready to purchase a used car with a great deal on a used car loan, it's time you contact our team today. Give our team a call at 1 (855) 581-9590 today to get yourself a vehicle safe for winter driving.