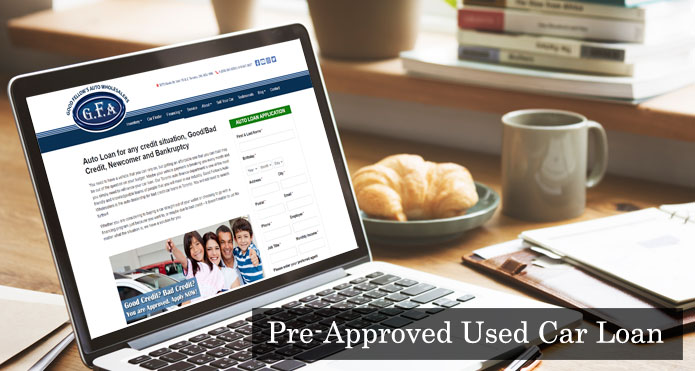 As there are many steps to go through before purchasing a used car, Good Fellow's Auto Wholesalers is here to inform you that some of them are easier than you think. For example, the first step in the process of getting a used car is getting pre-approved for a used car loan. Our team has put together a guideline here that will help walk you through the process of getting pre-approved and we will show you just how easy this step is to checkmark off your list.
What Is a Pre-Approved Car Loan
The first few questions that you might ask yourself after reading the first paragraph of this article might include "what is a pre-approved car loan?" and "why do I need it?". If these are questions you have, our team is here to answer.
A pre-approved car loan is needed in most cases to help buyers determine their financial situation. After you apply for a pre-approved car loan, a lender will check your financial situation (such as your credit score, debts, and income) and agree to offer you a certain amount for a loan. So, if you are not sure where you sit with your finances in terms of what kind of terms you would get, a pre-approved car loan will give you all of the answers you need.
This will allow you to know how much money you have to spend on the actual used vehicle because the last thing you want is to purchase a vehicle with a monthly payment you cannot afford. A pre-approved auto loan will help you to set a budget and make it more clear as to what is realistic and what is not.
Apply Here at Good Fellow's Auto
When you choose to apply with us, our team will get back to you shortly. We also have simplified this process for you so that all you need to do is use our online form to apply! This means that no matter where you are, as long as you have internet services, you can apply. Once you have submitted the form, one of our friendly team members will reach out to you to discuss how much you qualify for.
After this call, you will be able to know how much you can spend on a used car and you can start browsing our inventory of quality used vehicles. This includes sedans, crossovers, trucks, vans, and SUV's!
How We Can Help
If you have any questions regarding our online pre-approved car loan form, our team at Good Fellow's Auto Wholesalers would be happy to answer. With so many used car dealerships to choose from, you can rest assured that our financing team is the very best. If you would like to hear it from our customers, check out our recent reviews. To get started, you can contact our team at 1 (855) 581-9590 today.