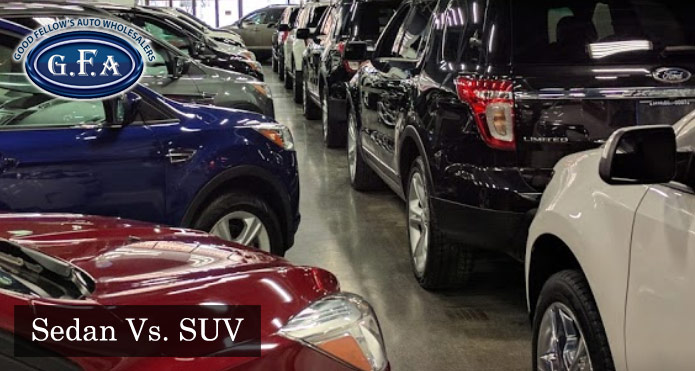 Deciding between whether you should get a used sedan or a used SUV can be a difficult decision, especially with so many great vehicles on the market today. That's why our used car dealership team at Good Fellow's Auto Wholesalers has decided to help you with this process and we have put together this guide to help you choose which vehicle would be best for you based on your personal preferences.
Consider Fuel Economy
The first area to examine includes looking at the fuel economy of both the sedan and SUV. An important feature to consider about the SUVs are that they are normally larger and heavier than a sedan indicating that they require more fuel on a day to day basis. On the other hand, sedans are habitually more known for their fuel efficiency as they are lighter and smaller on the roads. If finding a used car with better fuel economy is something you desire, a sedan might be more appealing to you.
Reflect on What's More Comfortable
Comfort for you might differ from what someone else deems as comfort. That's why deciding on what's most comfortable for you has to be your decision. It's important to note here that sedans have a more "cozy" feel as they are normally a little smaller yet they offer a smooth and secure drive. On the other hand, SUVs can feel more rugged on the road but usually have options for sport modes which create a sporty feel. The SUV models can also provide an extremely comfortable feel.
Most times it's best to actually jump into the seats of both options and see which physically feels and looks more comfortable to you, as you will be the one spending the time in the car. The layout of the car is also important to consider along with the physical comfort of the seat.
Keep in Mind How Many People Are in Your Family
If you are looking for a family car, an SUV might be the better option. As we have highlighted, the SUV is more spacious and includes more room for a full family, camping gear, hockey equipment, and pets! The SUV is also a great option for young families as the bulky chairs create a great support for car seats and the extra trunk space is great for storing strollers and wagons.
How We Can Help
At Good Fellow's Auto Wholesalers, our team wants to ensure you drive away happy. We are open to helping you complete your search for the right vehicle until you are satisfied. As there are many things to consider between an SUV and sedan, we are here to help and can assist in guiding you in the right direction for what works with you.
While you pick out your used vehicle, our team can offer car financing solutions that can help with the financial aspect of the purchase. For more information from our used car dealership, contact our team today at 1 (855) 581-9590.