Used Car Loan - Lowest Rate Auto Financing
You need to have a vehicle that you can rely on, but getting an affordable one that you can trust may be out of the question on your budget. Maybe your vehicle payment is breaking you every month and you simply need to refinance your auto loan. Our finance department is one of the most friendly and knowledgeable teams of people that you will meet in our industry. Our dealership is located in Toronto and offers affordable car loans with the lowest interest rate possible.
Contact us and get approved today: 1 (855) 581-9590
Vehicle Financing for Any Credit Situation in Toronto, Ontario
Whether you are considering to buying a car straight out of your wallet or choosing to go with a financing program just because you want to, or maybe due to bad credit – it doesn't matter to us! No matter what the situation is, we have a solution for you.

Auto Financing Application
We understand that extenuating circumstances arise and it may hurt your credit score. Even those who have poor/bad credit score need cars to get them and their families around. We want to help you secure a car loan so that you can provide it for your family.
The first step in getting an auto loan with us is to fill out the online application form. We will not harm your credit score by shopping your information to other dealerships or parties. Once completed, an associate will be in touch with you shortly for next steps.
Everyone deserves to have a second chance and we are here to deliver a car loan to those who need it. Fill out the application and get approved today.
We can help you with Used Auto Loans
Buying used vehicles over new is a great way to eliminate your responsibility for the majority of depreciation value. We are able to set you up with the auto loan and payment plan that may be much more comfortable for you than with a new car, and with a similar model! Our team of experts is here to work collaboratively with you to ensure that you can get the car that suits your lifestyle and desires best within your budget.
Our large inventory of used vehicles is constantly changing, so we urge you to stop by as soon as possible if you're thinking of financing a used car with any credit situation (even if you are a newcomer with new credit score) . If there's something specific that you're looking for, feel free to give us a call. We are here to make the process of your car financing as stress-free as possible. We can't wait to help you get started.
Frequently Asked Questions
Why Should I Know My Credit Score?
Knowing your score will help clarify which position you are in when applying for a loan and understanding where you sit can help you to secure better terms. Acknowledging and knowing what your score is can further help you to track your progress when working to improve it. The idea of tracking your score is important as every bill you pay could influence and have an impact on your credit score.
Overall, an improved score can result in lower interest rates, quicker approval, and high loan amounts. There are big differences between a poor score and an average score. Hence to secure better terms, it's important to know your credit.
How Long Does Car Financing Typically Last?
In the past, it was common to see a loan lasting for about five years but today, trends suggest that customers are opting to have lower payments each month instead of shorter payment periods. Therefore, it can be hard to give an exact range of how long a loan will last considering each financing situation is tailored to the customer's needs. One advantage of this process is that it can be extremely flexible.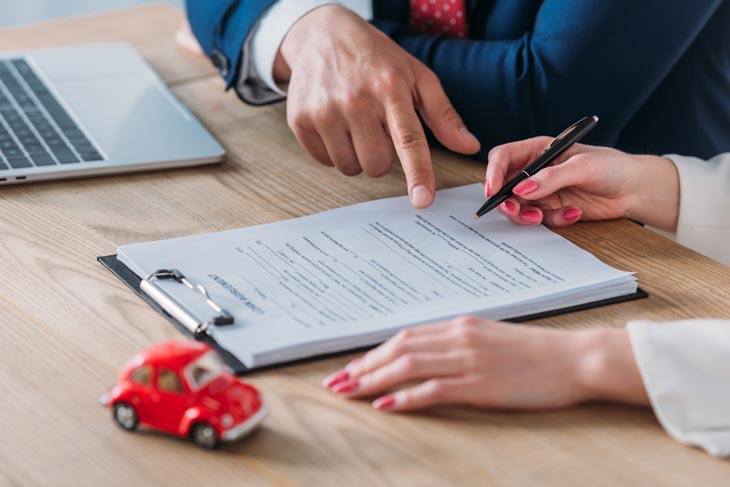 Apply for a Used Car Financing
Need help filling out your auto loan application? One of our helpful sales associates would be happy to go through this with you.